Flamenco Shoes
Flamenco shoes are the most important garment for dancing flamenco. Their sound and aesthetics create and define flamenco dancing. Without these shoes, a general audience sometimes find it hard to distinguish the dance as flamenco.
For flamenco dancers there is a wide range of flamenco shoes. Made by many different manufacturers, there are different types of materials, heel designs, and fastening belts. This can make it a little complicated for beginners, and even advanced students, to be able to choose the correct shoe. However, do not worry! I am here to help with the process!
Beginner vs. Advanced shoes
Beginner shoes
These typically have a lesser quality of leather and the nails on the heel and toe will be sparse. On many of these shoes you will need to smooth the nail heads out on a pavement, or they will completely tear up the dance floor. There are different thoughts and opinions between flamenco teachers when it comes to beginner shoes. Although some teachers may be okay with the use of beginner shoes at the start of your journey, most teachers think completely different:
"I hate to sound this harsh…but what I find ironic is that although it is precisely at the beginning when students need more support on their feet, it is also the time when most of come across synthetic leather – stingy nailed shoes.   It is hard enough to learn flamenco as it is, and certainly cheap, wobbly, uncomfortable shoes can discourage students to the point of ruining the entire experience for them altogether." (Flamenco and Ballet Dance School Maria Osende, [APA], n.d.).
But of course, beginner shoes are cheaper. It makes sense for many students to wait a little to decide if flamenco is something they you want to do before investing in good flamenco shoes. Good flamenco shoes can be expensive. If continuing to dance flamenco you will find better quality shoes enable your dancing to improve. Your footwork will get faster and faster, and more precise. Beginner shoes will simply not be able to keep up. If you want to start with higher quality shoes by all means go for semi-professional or professional. 
Beginner shoes
Professional and Semi-professional shoes
The difference between these two types is that the professional shoes has stitching in the bottom of the shoes making them more durable and resistant to breaking. In addition, professional shoes are made to endure many hours of dancing impact and footwork practice.
Semi-Professional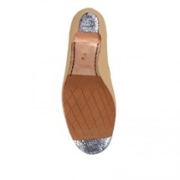 Professional
Material
Flamenco shoes come in a variety of materials:
Leather: For a lot of people is the most popular choice because is strong and durable.
Seude: This material breaks in faster, which is good for people with wider or sensitive feet. It adapts very well with the shape of the foot.  But keep in mind that it also tends to wear faster.
Patent Leather: This is not a usually made from natural leather products but plastic layers. It is sometimes used for performances due to its shiny look. I recommend getting a 1/4 to 1/2 size bigger for patent leather since it doesn't stretch (or breathe) at all.
Heel
There are many types of heels that you can choose, from 2 cm to 6 cm. But here is the guideline for what height would be perfect for you; the higher the heel the most strenuous it can be for your lower back and the ball of your feet, unless you are used to wearing high heels frequently. The wider the heel the more balance it will provide.

** Do not get "Character shoes", you can injure yourself by using them to do flamenco since it does not give you enough support required for foot work. Also, these shoes have extra room and that will cause you to slide within the shoe.
Brands
Senovilla
Gallardo
Menkes
Begoña Cervera
You can start checking them out, by window shopping at:
Flamenco Export  https://www.flamencoexport.com/flamenco-best-sellers/flamenco-shoes.html
Pure Flamenco Dance Store   https://pureflamencostore.com/collections/shoes
Tamara Flamenco Dance https://www.tamaraflamenco.com/en/
Flamencista https://www.flamencista.com/c/flamenco-shoes/
Check out these cool Esty stores:
Flamenco at https://www.etsy.com/shop/MelaFlamenco?ref=simple-shop-header-name&listing_id=773664372
Ole Ole flamenco at  https://www.etsy.com/shop/Oleoleflamenco?ref=simple-shop-header-name&listing_id=654995451
***Note: Many of these shoes are generally handcrafted for you! So you get to pick, size, color, material and heel. Otherwise there some stores like the on Etsy that are already made, you just need to order them! You pick!
Happy Shoe Shopping!!!